Donation Process
Product donors send supplies to the FOW-USA warehouse space in Louisville, KY at their own expense. Sources for supplies include:
people with surplus supplies no longer needed;
facilities that can no longer use supplies or are changing to other brands;
ostomy support groups that may have supplies donated by members.
A team of volunteers gathers regularly at the warehouse to unpack the supplies, organize them, and match the donations with needs. A volunteer communicates with organizations in the receiving country, such as hospitals, clinics, cancer societies, and ostomy associations, to identify product needs and ensure that the supplies will be distributed free of charge to needy ostomates.
Some countries require that the shipping documents be stamped.  Stamping requirements may be at the county and state levels of government, and others at the Federal level as well; the documents may also need stamps from the country's consulate in the USA.
Board member Ruth Salinger, pictured here, is in the process of having documents stamped for one country, at the State Office in the Maryland, USA, capital of Annapolis.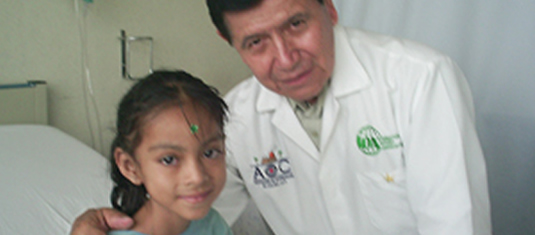 Volunteers then repack supplies for shipment to those who have requested assistance.  Shipments range from 1 carton to 1 or 2 pallets and are sent to over 80 countries, including cities, towns, and remote areas.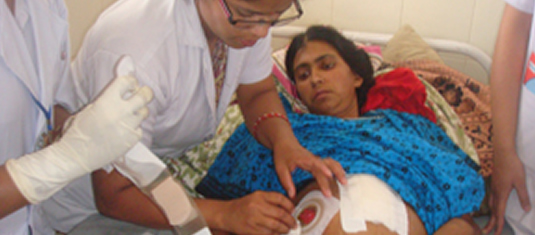 FOW-USA is dedicated to providing ostomy educational resources to individuals and health care professionals, particularly through our website.  We also support Lions for Stoma Care, a worldwide humanitarian program that teaches doctors and nurses from developing countries about stoma care and promotes positive attitudes about stoma patients to health authorities.
FOW-USA Board member Wendy Kunz returned to Placetas, Cuba, in March, 2019, to deliver ostomy supplies along with other items of daily living. She traveled with John Potter, a Presbyterian pastor who is part of a consortium of Presbyterian Churches in New Jersey, Delaware, and Maryland.

Ostomy supplies are difficult to acquire in Placetas, and ostomates may resort to washing and reusing bags, or resorting to paper bags.
Shipping to Cuba is not an option, partly because it is very expensive; delivery to Placetas is non-existent.

"Our trip was from March 11 to March 19, 2019. Four of us left Philadelphia airport at 10:30 a.m. and arrived at the Santa Clara airport at 5 p.m. The temperature was in the upper 80s in Santa Clara, where it remained all week …. A one-hour ride in a 1953 Oldsmobile and 25 miles later, we were in Placetas.

"Several days in, we were in a fellowship meeting with the elderly from the church when …. the Mayor of Placetas and the President of the Provincial Assembly introduced themselves [to John and me] and expressed gratitude for the mission of Woodbury Presbyterian Church to bring medicine and medical supplies to Placetas. …. Pictured [1st picture], in order, is John Potter, me, Juan Carlos, the President of the Villa Clara Provincial Assembly, and Pedro, the Mayor."

"Several days later we did the "hand-off" of the meds, toothbrushes and colostomy supplies to Dra. Liset Armando, medical officer for the town and church member. She and several members of the church will allot the meds and colostomy supplies to community members in drastic need. Pictured [2nd picture] is Dra. Liset Armando, district health officer and member of the congregation, and Grace Gomez, also of the Woodbury Church."

Thank you Wendy, John, and the other members of the team for providing this priceless service.

Wendy Kunz - FOW-USA Board Member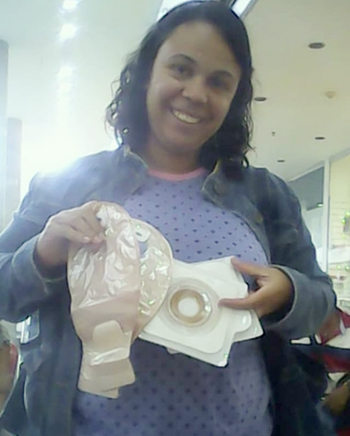 We are very happy to have received the shipment of ostomy products to our country. They are greatly needed and appreciated.
Jellyan from Grenada, where we sent supplies wrote: hi ruth how are you…i must stop to say thank you i have received the much need packages i have distributed the items…thou many folks are a little bit shy to pose for photos… i will give you photos of the bravest individual i have ever encountered…peyton hyacinth she is my daughter and trust me she walks with her bag out proudly.
i have also included a piece that she wrote herself we really appreciate it all …. post operation fishing has become a hobby and a love for her she enjoys it so much sets no limit and continues to blossom thanks a million.

Peyton S. Hyacinth – That's me! an 8-year-old girl, I have a colostomy, it made me special Because not everybody is in the situation that I'm in, made me realize that I'm different, special and blessed to be alive, they could say things about me but it will not break me, it will not hurt me, because I am who I am. I have a purpose in this world GOD saved me and I am thankful for that I will inspire people tell them don't turn away from who you are because you're different, that makes you special you can be anything you want because there are people in worse situations than you are in, so don't be afraid to speak to someone. Many people didn't make it, so why hide from who you are people will look at you because your extraordinary, don't think that they are more perfect than you because no one is perfect I may be young but I want to tell people in mine situation and other situations, don't be afraid to stand up for your rights because what you have is a gift it's a blessing and don't be afraid to stand up and tell them just because your different your special.

Ronaldo Lora of the Philippines receives large donations from FOW-USA; he then distributes them throughout the large country.  The support group Colostomy Friends of the Philippines is one of the many groups under the National Federation of Ostomates of the Philippines, Inc., that helps poor patients through education and sharing of ostomy bags. Members of the support had a Christmas party celebration. "Thank you to FOW-USA for the assistance given.

Philippines 2016 Christmas Gathering
Lao Friends Hospital for Children:  We sent supplies to the Lao Friends Hospital for Children, a non-profit group dedicated to providing high-quality and compassionate medical care to children in Southeast Asia.  The photo shows a couple of members of their nursing team, Amphone on the left and Ham on the right.  "Thanks again for the incredibly useful donation for our patients.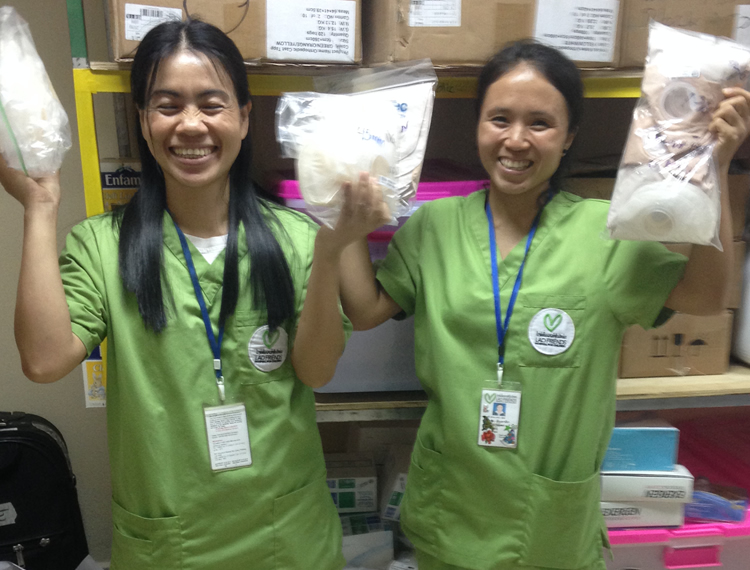 This is my son, Matías Daniel López, born on 03 June 2017. He suffers from Hirschsprung's disease. He was placed with a colostomy from his second day of birth. He has had 6 surgeries, three of which were due to complications. In September 2019 after performing a colostomy closure, he had a perforation in his colon so he currently has an ileostomy. Please pray for him.
With great joy and thanks from ostomates, I am writing to express our full gratitude for your always support and care. We may not have enough words to thank you, all we can is to thank the whole team of FOW-USA and you for much you have done to us. Because of FOW-USA, we are able to see many ostomates in our clinic, coming for bags supply, information and stoma care.

Lameck Odero Stoma Care Coordinator Nyanza Kenya Ostomy Association (NKOA)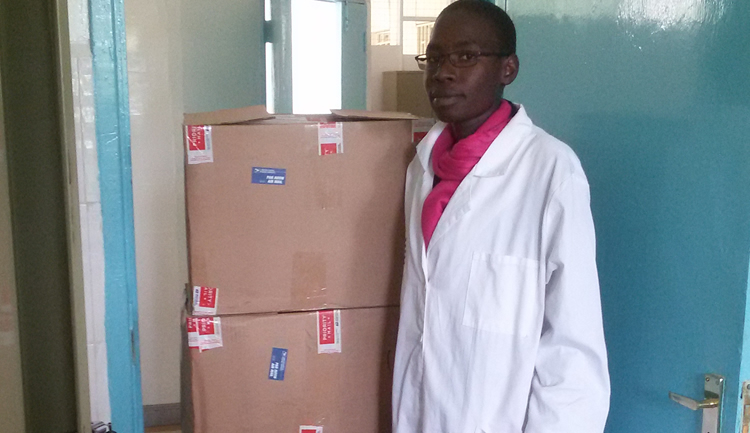 Several years ago, we heard from the U.S. director of an organization that works with sea-dwellers in the Philippines, Badjao Bridge.  He requested assistance for ostomates within this group.  The Badjao people, with an estimated population of 400,000, are an indigenous ethnic group of the Philippines which has been there since at least 500 A.D.

Badjao are an endemic fisher-folk who have been using sustainable fishing methods for over 1500 years.  In the past 50 years however, the Philippines has experienced a surge in population that has severely depleted fish populations, leaving Badjao without anything to sustain their livelihood.  Uneducated and often ostracized by the majority people group, they are left  struggling to survive in modern society.

We have sent ostomy supplies to Weng Amper, Program Director in the Philippines for the Badjao Bridge non-profit group.  She writes of one of the recent recipients:

This is where Pastor Salonga lives together with his four other siblings and their families. They all live together in that house. … The one sitting on the extreme left is his mother. They lost their father due to sickness. … Pastor Salonga is not able to provide for the family due to his sickness.  He was overjoyed upon seeing the boxes of colostomy bags.  He still can't believe that he has those bags in his house already. He is very shy and just told me to tell you that he and his family is very grateful for the support you have extended to him…

Badjao People, Philippines
Thank You all for the care of stoma patients of Ukraine….Stoma patients, representatives of all regions of Ukraine, gather, organize seminars, conferences, we invite doctors and government representatives, with the sole purpose to help the stoma patients.

Ukraine Astom-Ilko OstomyGroup 2016
We are very pleased to have received the shipment of ostomy products. This is a blessing to many of our poor patients.
You are heaven sent, we don't know what we would have done without your donation of ostomy appliances.
As you can image we are very happy to have received your help. This gives us hope and a lot of encouragement that finally we will be able to help in part of the difficulties that we face in our country.
We received the bags today. Thank you very much… We are in the process of letting our clients know that our stocks have arrived and they are relieved.
The package of ostomy supplies arrived safely last week, and we do appreciate your help with our patients. The bags are just what they like with the open end and being able to cut to the size they need.
The appliances will be a big help… I plan to have the distribution of supplies printed in the local newspaper to further promote the advocacy. Thank you very much.

Ronaldo Lora, Philippines